Wednesday evening – Get Together for conference participants who are already here and participants of optional workshop
On Wednesday evening, we will organize a dinner at 7:00 pm Restaurant "Augustin". Before the dinner starts there will be the possibility to talk a walk through Klagenfurt. The meeting point for the walking tour is the western entrance of Landhaus at the Ursulinengasse 2.
Thursday evening – conference dinner
We plan to organize the conference dinner in the monastry "St. Georgen am Längsee". Before the dinner, you will have the opportunity for a guided tour through the monastry". Partners of conference participants are welomed. We only ask for a small expense contribution of 30 Euro (dinner tickect) for each additional person who is not registered as a conference participant.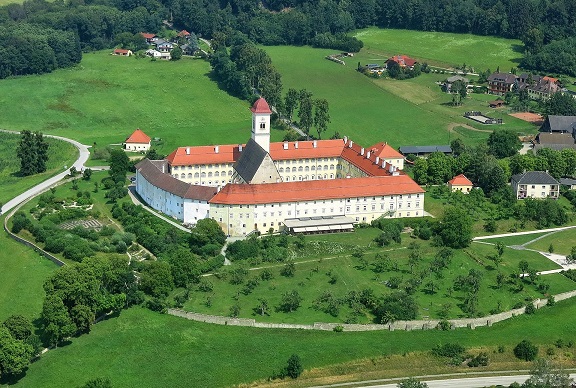 Picture Owner: Arcomonte26 – own achievement, CC-BY-SA 4.0, https://commons.wikimedia.org/w/index.php?curid=43400629
For more then 1000 years this monastry in the charming landscape near the lake "Längsee" is a center for spirit where generations have found shelter, consolation and peace.
The former benedictines monastry was founded by the countess Wichburg between 1002 and 1008. She was the spouse of the count Otwin of Sonnenburg (Pustertal). At this place people find peace, virtue and recreation. The oldest continously occupied monastry of Carinthia is a spiritual place characterized by religious, spiritual and economic work of the benedictines.